In our attempt to hike/walk all the trails around Utica we are slowly moving through the list. Yesterday, it was the West Canada Trails.
The day was a balmy 60 degrees Fahrenheit with a beautiful blue, sunny sky.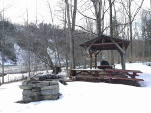 Being active women, Grace and I wanted to get out and enjoy the weather. These well groomed trail made for an easy, refreshing walk through a wooded area and along the creek. Not to far along the trail, there is a nice opening in the treas equipped with a fire pit, picnic tables, and grill. During the summer it would be an ideal spot for a picnic!
West Canada Valley Trails are only a 30 minute pleasant and scenic drive from the Rosemont Inn. Newport has some beautiful stone structures as well as a gorgeous view of the creek as you drive to the trail head, located behind the West Canada Central School.
If you are a guest staying with us in the future, or here right now, and would like to experience Upstate New York's local beauty, feel free to ask Rita, Grace or myself for suggestions.