These were served at the wedding celebration of our daughter, AnnaRose and her husband, Matthew. Everyone loved them and so I have decided to publicly share the recipe here for those who would like to make them at home.
Traditionally, baked beans are served as part of the
Full English Breakfast, https://iamafoodblog.com/a-breakdown-of-the-full-english-breakfast/
This recipe makes a lot but it freezes very well. (Pictured below is 3x more than the recipe as written.) Portion into the sizes that work for your family and then take out and warm up whenever you want some to go with your barbeque meals or just a simple baked chicken and salad dinner.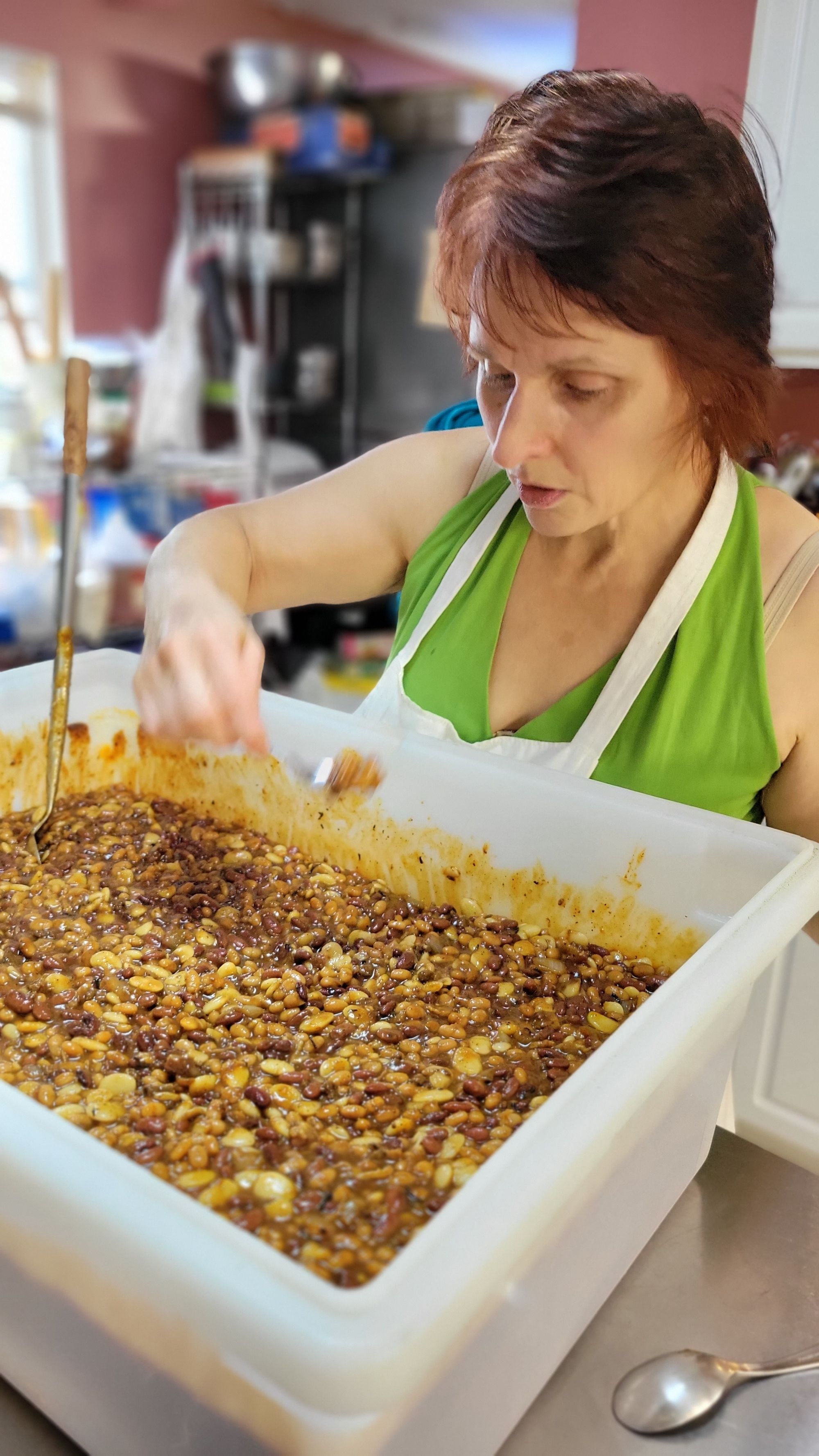 1# ground beef (I use local, grass-fed beef that is lean)
1# bacon (uncured, low salt), chopped into 1/2" pieces
4 cups chopped onions
5 cups ketchup (organic preferred)
2 cups BBQ sauce (choose something you like; no corn syrup preferred)
1/2 cup mustard (Yellow, Dijon or Spicy brown will all work)
1/2 cup blackstrap molasses
1 T balsamic vinegar
1 tablespoon smoked salt (I used Maldon, but any smoked salt will work)
1 T  hot chili powder
2 T regular chili powder
1 T smoked paprika
2 T Lapsang Souchong tea leaves, finely crushed
2 T freshly ground pepper
1 #10 can baked beans (I like Bush's Original)
1 #10 can Kidney beans
1 #10 can butter beans (or lima beans)
Cook together bacon, ground beef and chopped onions until onions are soft and lightly browned.
In a large bowl, stir together bbq sauce, ketchup, mustard, vinegar and molasses until well combined. Stir in dry seasonings and mix until fully incorporated into the sauce.
In a large container big enough to hold all ingredients, empty the can of baked beans. Drain the liquid from the kidney beans and the lima beans. Add them to the baked beans.
Pour in sauces and add onion, bacon and beef mixture. Stir gently to combine everything thoroughly. I like to use a spatula or a wooden spoon for this so that the beans keep some of their shape and structure.
Portion into whatever sized casserole dish you like and bake for 1 hour at 350 degrees.
You can freeze the rest in a disposable baking pan, plastic bag or whatever else you like. Thaw and bake as directed above when you want to add this to another meal as a side or eat it as a main dish with a salad.