A Breakfast Cobbler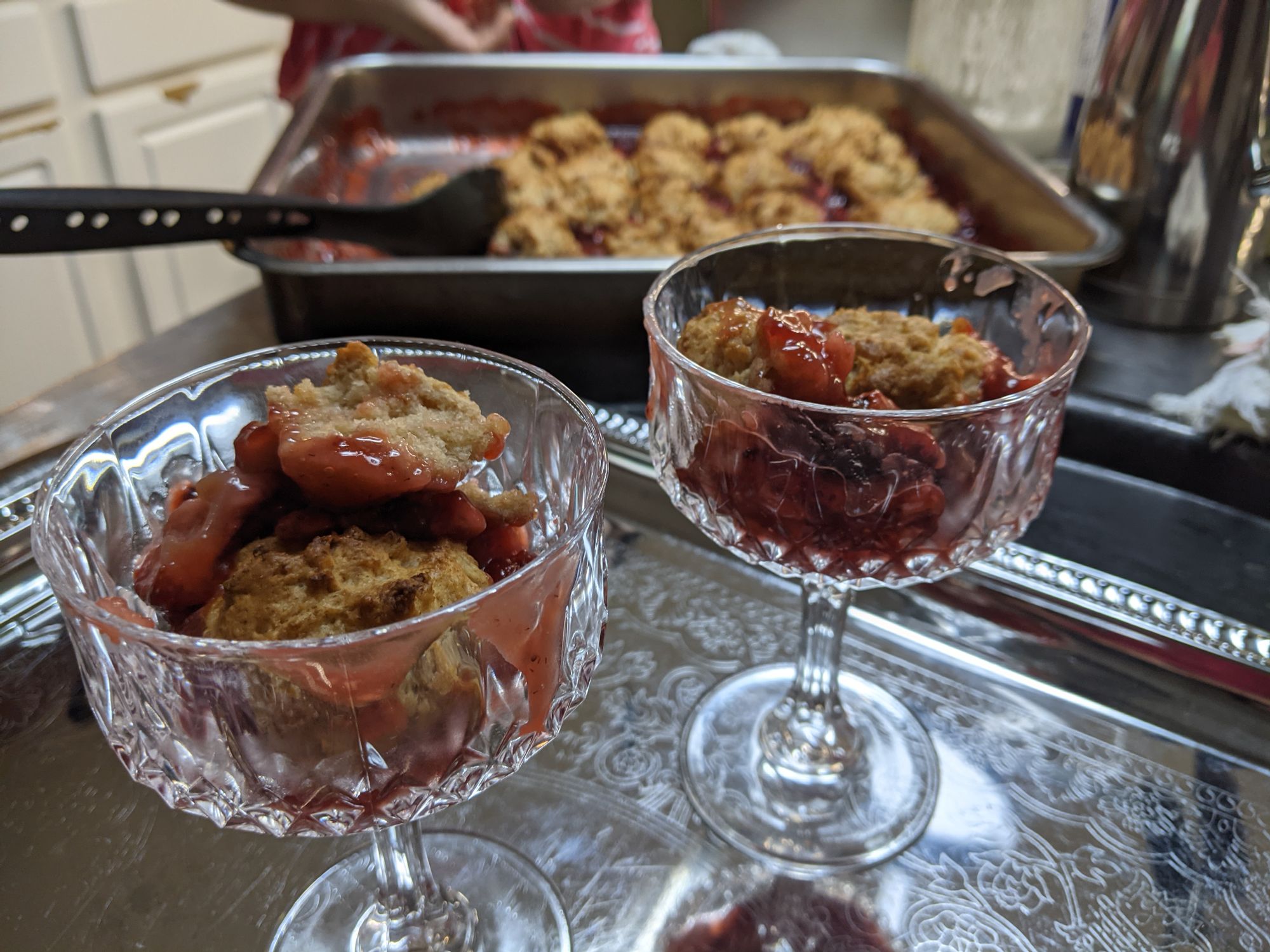 This is soooo delicious! All of my guests have raved about it and said that they will remember it. Makes any breakfast extra special. Can be made with any kind of berry or summer fruit, such as peaches, plums, nectarines or a combination.
2 pounds strawberries, hulled and quartered
3/4 cup sugar
1   Tablespoon starch (corn, potato or tapioca will all work)
1   cup whole spelt flour (or whole wheat pastry flour)
1   cup all purpose flour (I like King Arthur)
3 Tablespoons sugar (I always use organic cane sugar)
1   Tablespoon baking powder
1/2 teaspoon table salt
4 ounces (1 stick) cold, unsalted butter
1   cup whole milk, cold
Method:
Combine sugar and starch together in a small bowl. Set aside.
In a 9x13 glass baking dish, combine strawberries with blended sugar/starch.
Place baking dish in oven to warm while it preheats to 425 degrees.
Combine all dry ingredients in a large bowl. Grate butter into the dry ingredients using the course side of a box grater. Toss and blend the butter with the flour to combine and coat. (Alternately, you can put the dry in food process or bowl and pulse the butter into the flour. Dump into a bowl to continue.)
Add milk to flour/butter mixture and stir with a spoon to make a soft, loose biscuit dough. If it is too dry, add another 1/4 cup of milk. You want to be able to make drop biscuits that just barely hold their shape.
Remove fruit from oven. Drop dough by the spoonful onto top of warm fruit. Leave space between the biscuits. I use a very small ice cream scoop to make the biscuits but a teaspoon will also work well for this task. Sprinkle the biscuits lightly with cinnamon-sugar if desired.
Bake the cobbler in the center of the oven for 20 to 40 minutes, until the center of the dish is bubbling. If your biscuits are really large, you may need to move a biscuit aside to see if the fruit in the center is bubbling.
Serve hot or warm with whipped cream, if desired.